Posted on Sun 05 July 2020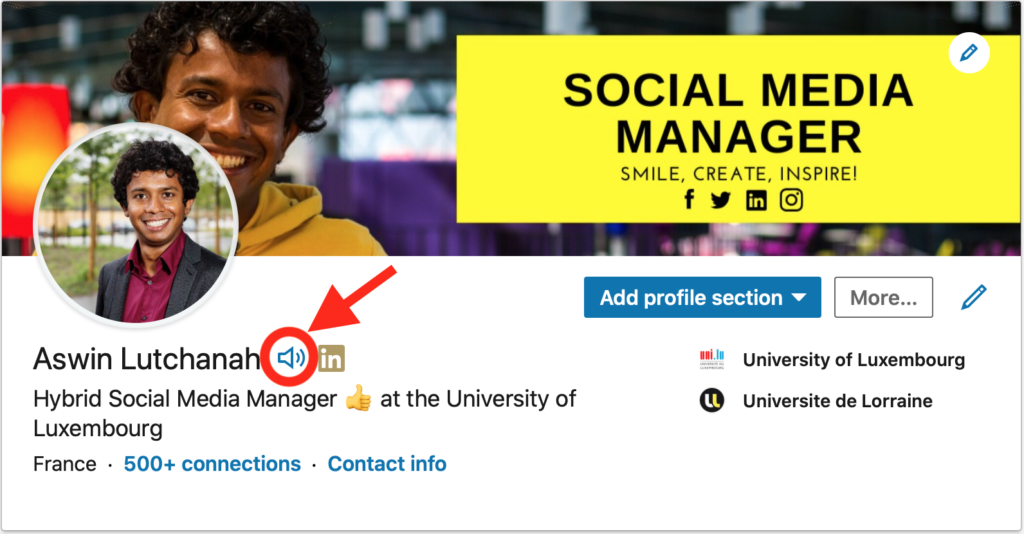 Say my name … Say my name … 🎶 LinkedIn introduces a voice recording of your name option so that others can directly listen to it on your profile.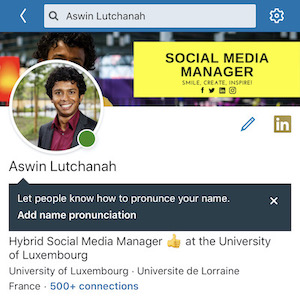 💡 Try the voice recording of your name option now on my LinkedIn profile
When you have an exotic name like me, it can be frustrating at times when people pronounce it badly. 🌍 In an international environment, you can be on both sides: the one whose name is pronounced badly or the one who pronounces a name wrongly. So, record your name on your LinkedIn profile and let people listen to how you want it to be pronounced.
How do you record and display your name pronunciation?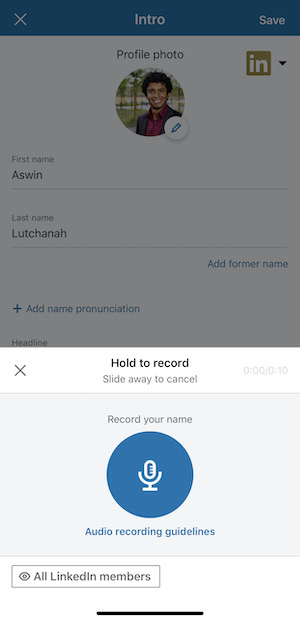 Pronunciation: it's one of the English word that I love the most. It's beautiful. Anyway, let's get back to business.
Note that recording your name can only be done via the LinkedIn mobile app (IOS & Android). Once you have recorded your name, a little speaker 🔈 is displayed besides your name on your LinkedIn profile, on desktop & on mobile (see above photo).
When you are on your profile on the mobile app of LinkedIn, in your introduction card, tap on the pencil ✎ to edit it. You will see the "Add name pronunciation" option.
🎙 Tap & hold the recording button to record your name. Before saving, make sure you are satisfied with the result. You can do retakes as long as you are not satisfied with the result.
Guidelines for recording your name by LinkedIn
LinkedIn provides some guidelines for a good recording of your name:
Make sure that the total recording time is within 10 seconds
Limit background noise
Speak slowly and pronounce each syllable clearly
Hold the phone about four inches from your mouth
Hijacking the record your name option
😏 Depending on your name, 10 seconds can be a long time. So, why not, use this opportunity to share a voice introduction. My friend, Nicolas Casuccio, used this option to give 2 pronunciations of his name: the 🇮🇹 Italian version and the 🇫🇷 French version.
😎 On my side, if you check my LinkedIn profile, you would listen to my introductory sentence … 😉 You've heard about the elevator pitch, right? How about the LinkedIn 10-second pitch? Be creative, record yours and feel free to share it with me in the comment section. I'd love to listen to your 10-second pitches.
Smile. Create. Inspire. 💛
Take Care,
#SocialMediaManager
About The Author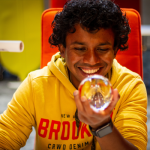 Aswin Lutchanah
Hybrid Social Media Manager with over 9 years of experience specialising in Social Media. Experienced with all aspects of Social Media Management. Having a Master degree in Computer Science, I have an in-depth knowledge of the digital world including Social Media, Community Management, Social Media......