Posted on Sun 01 August 2021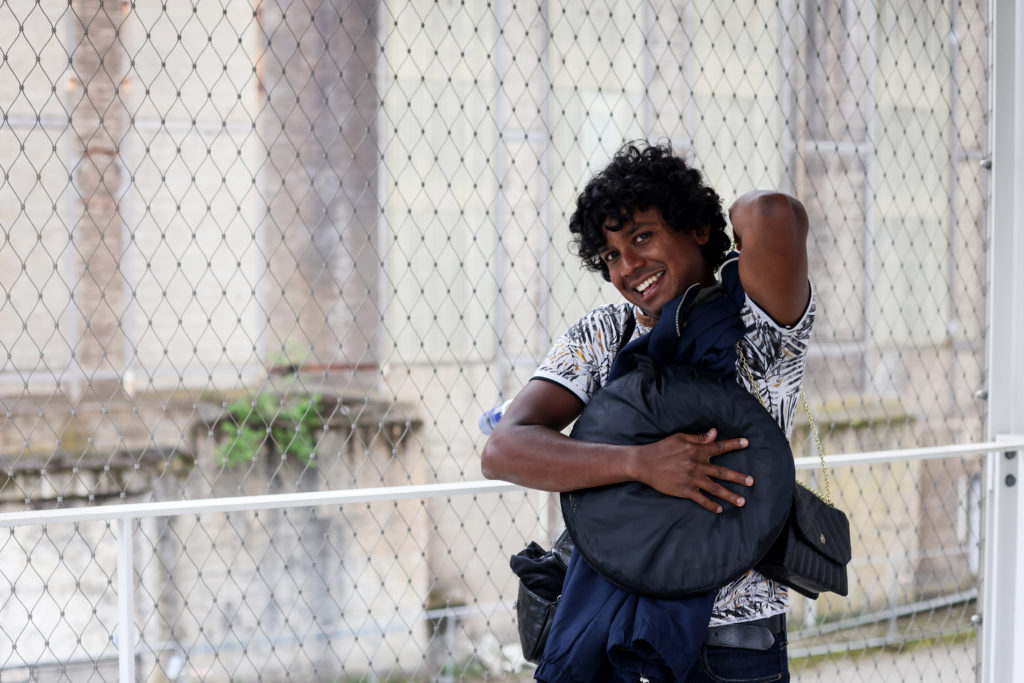 Tell me you love your job without telling me you love your job. A picture is worth a thousand words they say. That's why I chose this funny picture to illustrate this article celebrating my 6 years as a full-time Social Media Manager. Do you want to know more about the story behind this picture? Keep on reading … 😉 Yeah, this is definitely some teasing to keep you hooked.
I'm someone who doubts all the time. I want to do more even when I reach my limits just to prove myself that I'm good enough. This may sound good when you read it. It's definitely not when you live it. Let me explain. When I finish something, I always see the flaws that could have been done better. Always. So, for a long time, I was always not satisfied with myself even when people around were saying this is awesome. This is exhausting for me and sometimes can be for people around me as well … because I want more. Always.
Thanks to the pandemic, I've been working a lot on myself to accept and be happy with things I do. It's a very long process and one reason of this blog and this article is to reflect on some of my achievements and learn to be proud of them as they are and not as they could have been. Now, let me share some highlights of my sixth year.
Social Media Cake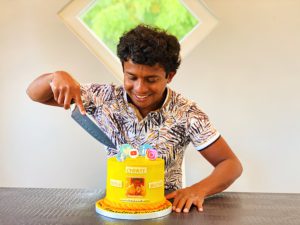 So, my sixth year started with the celebration of my 5 years as a Social Media Manager in August 2020. Obviously … 🙄 At least I know how to count. It's one of the many skills you need for the job. That is why being a digital hybrid helps to fulfil this position. For that occasion, I ordered a special Social Media cake. I wrote an article about this where I explain how I switched from a web developer to setting up my own enterprise and finally landing at the University of Luxembourg.
Welcome Day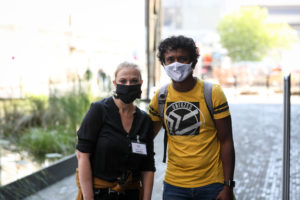 September 2020 as every September, we have one of the most important event: the Welcome Day. It's the day we welcome new students to the University of Luxembourg. They get the opportunity to connect with the University in person for the very first time for many of them as we have students from 130 nationalities. Most of them have not been to the University yet. We have been in touch virtually.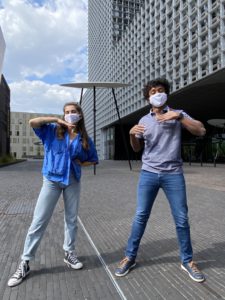 And for my part, we have connected already as I reply to their questions on our social media channels. In order to make their onboarding smooth, I've introduced the Welcome Day Stories on the uni.lu Instagram channel so that the new students could connect with each other before the Welcome Day. On this day, they meet as if they knew each other for a long time and feel less lonely or overwhelmed. I very well know this experience as I was also a non-EU student coming from Mauritius to study in France. I was lucky to have my dad with me for my first days. Between, I've started the stories for the 2021 Welcome Day, feel free to watch them on Instagram.
The above picture was taken by Sophie Margue and I'm posing with Solange, my greatest colleague and friend at the University of Luxembourg. We've experienced so much together and without her, things would be definitely less exciting. On the day itself, Sheena and Krystina, two students who work with me as Social Media Manager assistants were of a great help. Don't get me wrong, this event involves way more people within the Communications department and across the University, I'm just sharing the story from my angle and with my direct interactions.
Video: My Student Life at the University of Luxembourg
August to November 2021. Definitely the video I'm most proud of. It has now achieved almost 16.000 views and is among the best video in terms of conversion on the YouTube channel of the University of Luxembourg. It required a lot of shooting. I was happy to do this amazing project with my friend Cédric who professionally filmed and edited ths movie and also Sheena, my Social Media student assistant who was the main character. I also appear as a B-role in the video. Try to find me. Cédric made a great job of turning this into a beautiful story so that prospective students can have a sneak peak of student life at uni.lu. In a future life, I'd love to write scripts for videos. It's on my list as well …
100,000 followers
October 2020. When I started in August 2015 as the full-time Social Media Manager, we had around 20,000 followers. We've now multiplied our Social Media presence by 5 in 5 years. I'm proud of this achievement!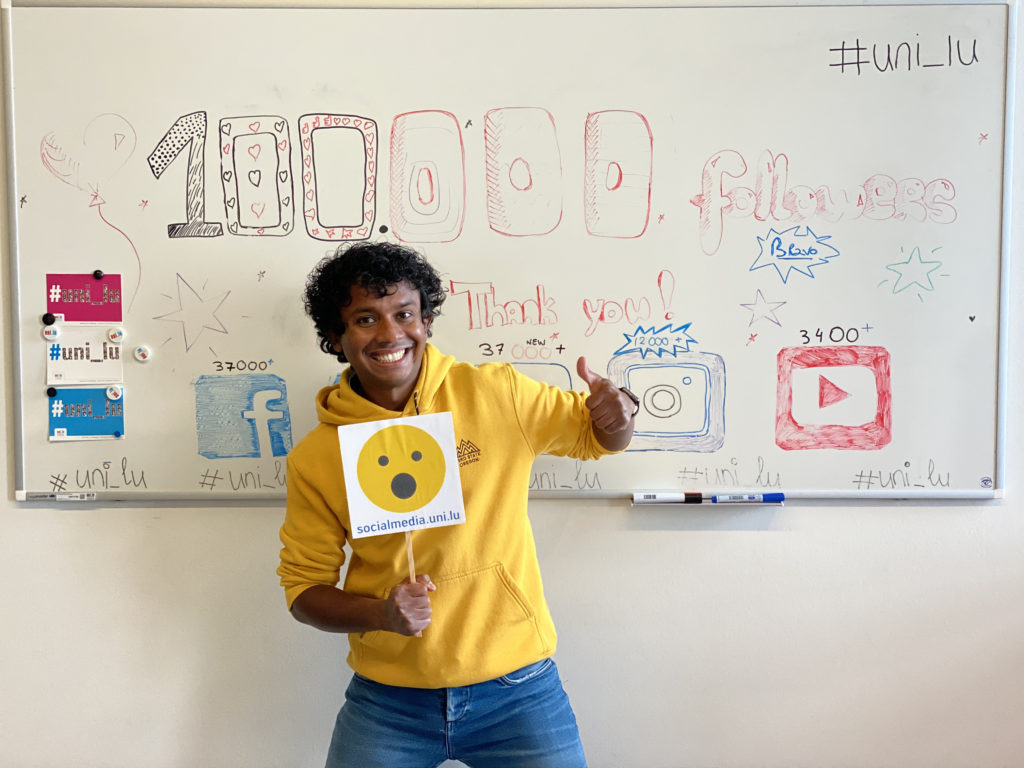 International Social Media speaker during the pandemic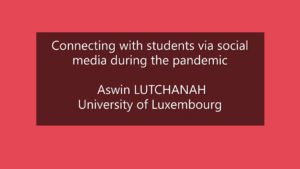 October 2020. "Connecting with students via Social Media during the pandemic" was the theme of my presentation as I got the opportunity to attend UNICA's PR & Communications workshop for the 3rd time and to speak there for the 2nd time. Last year's edition was fully online for obvious reasons. During my presentation, I explained how we connect with students on social media, why it works, the importance of empathy marketing. My dear friend Diana from TalTech University in Estonia shared a nice testimonial after attending my presentation. Read more about this in another article on my blog.
UNIVERSEH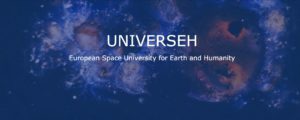 November 2020 saw the official establishment of UNIVERSEH. "UNIVERSEH – The European Space University for Earth and Humanity", an alliance of five higher education institutions:
🇫🇷 Université Fédérale de Toulouse (France)
🇱🇺 Université du Luxembourg (Luxembourg)
🇩🇪 Heinrich-Heine-Universität Düsseldorf (Germany)
🇸🇪 Luleå tekniska universitet (Sweden)
🇵🇱 Akademia Górniczo-Hutnicza im. Stanisława Staszica w Krakowie (Poland)
When Eric Tschirhart contacted me for the Social Media part of this project, I couldn't refuse this opportunity. Remember me talking about doing more? I was lucky to be the very first Social Media Manager of the University of Luxembourg but when I joined the channels were already created. Now, I got the opportunity to be the first Social Media Manager of a new university and to create everything from scratch and to work with people across Europe. Pure bliss. Once again, don't get me wrong. It requires a lot of energy but it's worth it. And for those asking if I left the University of Luxembourg, you now have the answer. I'm doing both and I'm still at the University of Luxembourg.
We are still at the very beginning of UNIVERSEH but you can already follow us on our social media channels:
Workshops for uni.lu students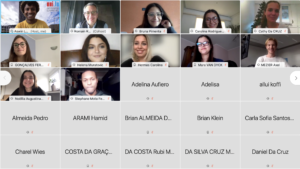 November 2020 & April 2021. Each semester, I do two workshops via the Career Centre of the University of Luxembourg for the students. It's another opportunity for me to connect with part of the audience and hopefully, to share my knowledge with them.
LinkedIn, Facebook, Twitter: the best SocialMedia to look for a job

E-reputation: managing your online image

What is e-reputation?
Importance of managing your e-reputation
How to manage your e-reputation?
How to search yourself?
How to influence your e-reputation?
Personal Branding
Digital presence
Personal Brand Awareness
Personal Brand Authority
What gives you hope for 2021?
December 2020. I was honoured to be featured in the season's greetings of the University of Luxembourg. I reflected on my 2020 and shared this in a LinkedIn post.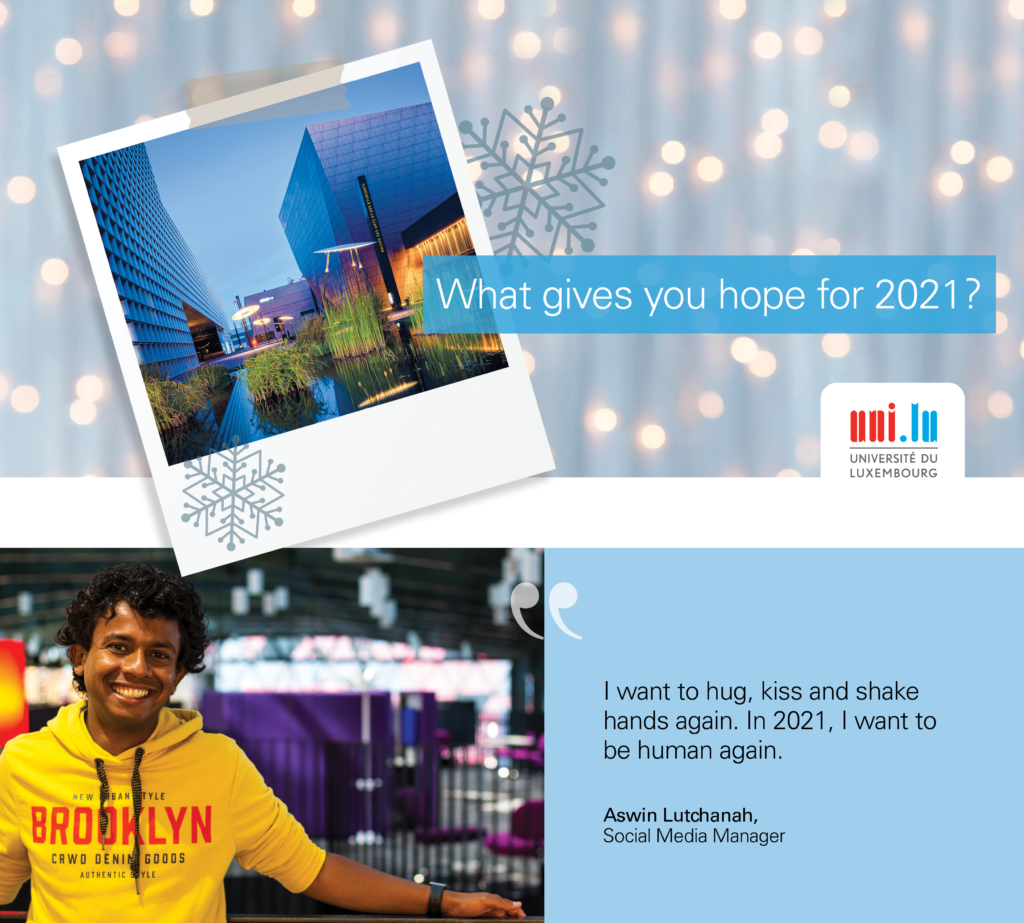 Online Marketing Foundations
January 2021. I completed a certificate about online marketing foundations. I love to learn and this was a nice almost 5-hour course to revisit the foundations.
Instagram Live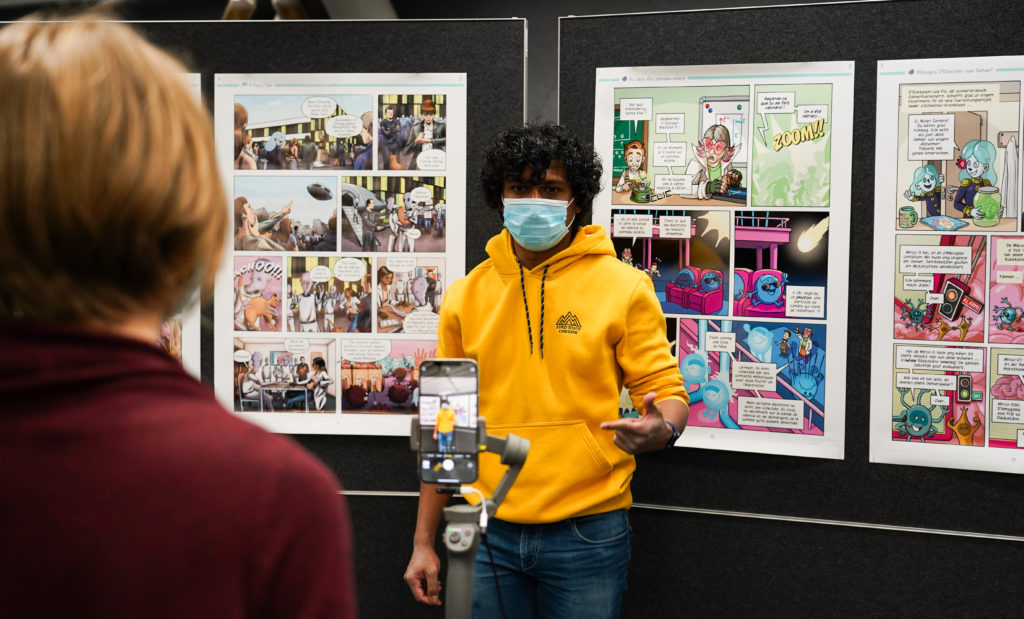 Here's a behind the scenes for the release event of LUX:plorations inside the Luxembourg Learning Centre at the University of Luxembourg.
✅ Just a few words to give you a glimpse of a Social Media Manager's life. This was a LIVE event on Instagram for the official launch of the science comics made in Luxembourg. We spent the day with my colleagues to test and prepare for the event. It's part of the job that drives your stress level, adrenaline & motivation up. On the other hand, you can't do your usual tasks. It's a job of passion! 
Happy Birthday to me: Gift for Social Media Managers
January 2021. This year for my birthday, I wanted to do something special. The idea was that I saw that due to the pandemic, Social Media Managers were overwhelmed and felt even more undervalued as people don't know what they really do. They solve problems that you didn't even know you had. For this reason, at my level, for my birthday, I wanted to make them happy by sending them something from their wish list to make them smile. Only person, Florence participated and she I sent her something from her wish list.
Social Media Keynote
February 2021. I got the opportunity to do a science communication course for doctoral candidates at the University of Luxembourg. It was not the very first time as I did this in the past but it's always a pleasure to connect with another part of the audience: doctoral candidates. I talked about what is social media, how to leverage social media for their research and how we do social media at uni.lu.
Virtual Tour of the University of Luxembourg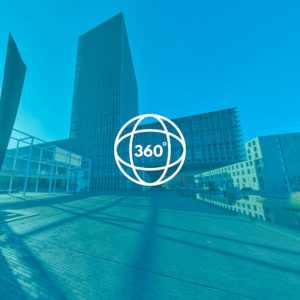 February & March 2021. Probably one of the biggest challenge I had at the University of Luxembourg. This was a project that was in the pipeline for a while but the pandemic moved it from a nice to have to a must have. Due to the pandemic, the Open Day was going to take place virtually for the second time and we wanted prospective students to be able to navigate through the campuses as if they were there. You probably know Google Street View and this was the objective. Many colleagues were involved in this project which I was proud to lead.
To make this happen, we worked with Wili, an agency in Belval. It was a marathon and a sprint combined together but everyone did their best to make this happen so that it could be ready a few days before the Open Day in March.
Retrospectively, this was an amazing and fun experience on the field with David & Romain from Wili and Krystina, Sheena, Dorothée and I from uni.lu. I got the opportunity to visit places I didn't know existed and I got the opportunity to meet in person some colleagues from other campuses; They were of great help to show us around and to help make things happen in this short period of time. On and off the field, people were doing their parts.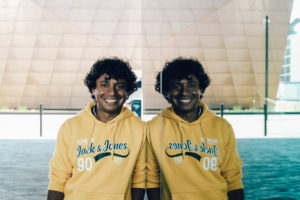 Most importantly, you can still visit the University of Luxembourg as if you were there. When we shared this on Social Media, it was well received and people inside and outside the University were happy to discover / rediscover the University. I even received messages from people I've never met at the University. Everyone should be proud of this and show the world how wonderful the infrastructure is at uni.lu
If you are interested about the whole behind the scenes of the project, Wili interviewed me on their blog: "Effet Wow pour la première visite virtuelle de l'Université" (It's in French).
Google Analytics Academy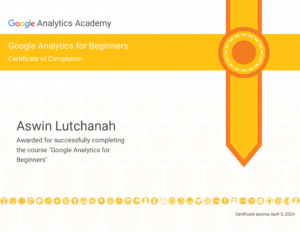 April 2021. During the Easter weekend, instead of eating chocolates, I completed the course Google Analytics for Beginners and obtained a certificate of completion from the Google Analytics Academy. To be honest, I did eat some chocolates as well. I made only one mistake and completed the certificate with an overall score of 97%.
The next step would be to go for the Advanced Google Analytics course. It's on my long list. The advanced course will probably be more intensive and I need to find some quality time for this.
Graduation Ceremony 2020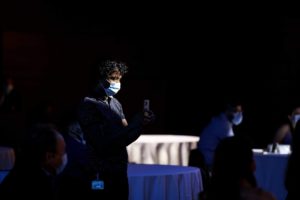 May 2021. Usually, the Graduation Ceremony is a graduation week that takes place in December. Once again, due to the pandemic, we couldn't organise it in person in December. It was held in a hybrid version. To make the Class of 2020 participate in the ceremony, we asked them on Social Media and via emailing to send us a pic with their diploma. Together with Diana, Krystina and Sheena, we came up with this video which brought some smiles to our graduates. Diana did a wonderful job to edit this video. I am very proud of this project as well.
Photoshooting with uni.lu students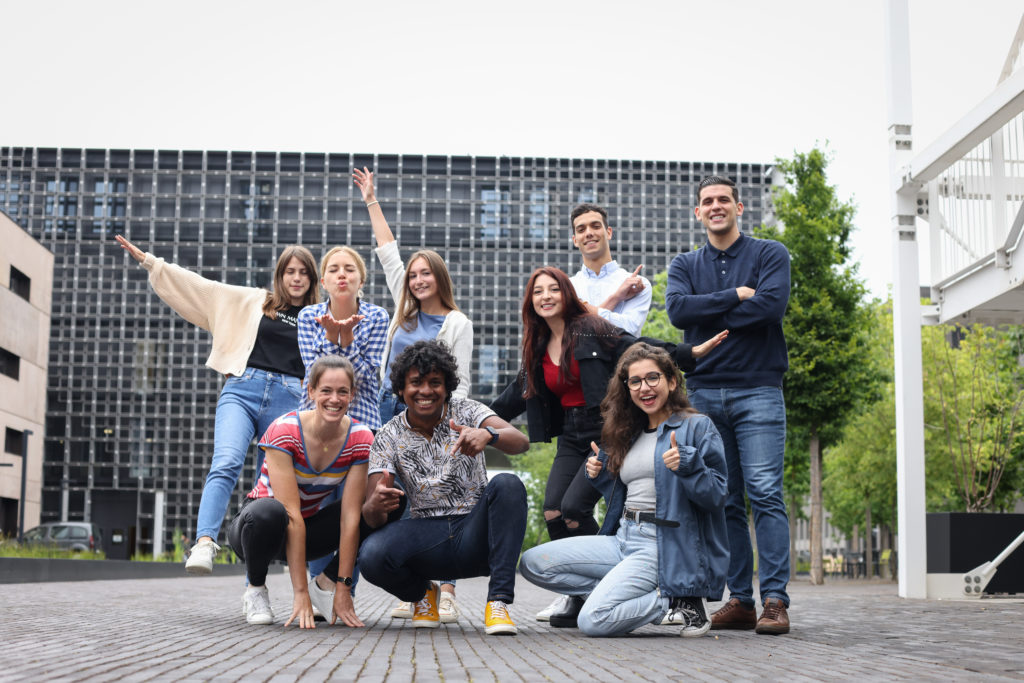 June 2021. Each year, we need photos to promote the University and this was the latest photoshooting organised on Belval Campus. I would like to thank Cassandra, Silvi, Nelson, Mika, Maria & Sheena to readily accept participating when I contacted them. Thank you to Krystina and Sophie Margue to make this happen. We had fun and enjoyed that one too. This is something important to me: smile and make people smile around me.
Between, if you have read till now, the featured picture comes from this photoshooting. I was holding the stuff of the students while they were posing as models. This picture somehow reflects the job of a Social Media Manager; you need to multitask and you need to endlessly acquire new skills. Here, we agree, you don't need to have a lot of skills to be a coat hanger … 😂
World Social Media Day
30 June 2021. For this year's World Social Media Day, I wanted to emphasise more on the social part of social media which we tend to forget. This post got a lot of attention on my LinkedIn as you can read below.
Tiktokers of Luxembourg – Delano Magazine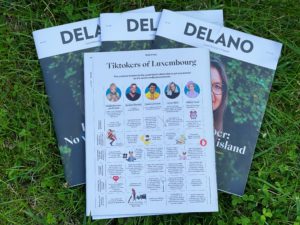 Five creative thinkers in the grand duchy share tips to get you started on the social media phenomenon.
This is how Delano Magazine introduced 5 Tiktokers of Luxembourg in their Pick'n'mix article of July 2021 edition. I was honoured to be interviewed by Delano to share my thoughts about this social media platform. I'm still a newbie on TikTok. However, I love digital and to try out new things and of course learn. Check my TikTok account (newbie, positive vibes, smile, dance, testing).
Positive feedbacks from the uni.lu student community on Instagram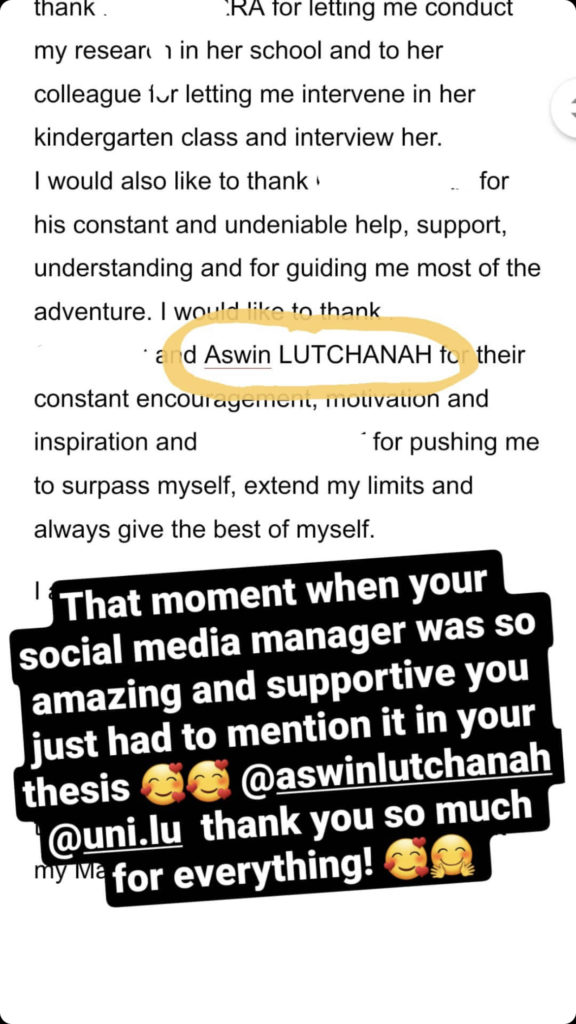 July 2021. This happens all the time and I could write a whole article with the positive feedbacks I receive from students. During the pandemic, I showed more care via our Instagram account by motivating students and writing motivational stories. During the exam period, I write a story every morning and night to motivate them, show them we care and motivate them. As far as possible, we send personalised messages to the maximum of students. This is something well appreciated. Here are some of the latest positive feedbacks I received.
Hello!! I will be joining the Bachelor in (…) starting this September, yaaay!! Can't wait to meet everyone and finally see the campus irl 🥰 Also, I've been following the page for quite a while and I gotta say what you're doing is amazing, as for my experience I haven't seen a uni page this joyful and interactive:) Big congrats from me!!
---
I just saw your post and it is sooo inspiring!
You are doing such a great job and it is actually your amazing management of the University of Luxembourg's social media that made me consider APPLYING next year for a masters degree there! 😁😁😁😁
---
I thank you so much for your loving and motivating words through the semester, you gave me the motivation to get through it, when I couldn't find it myself. 🤗 🙏🏻 I really appreciate your time and effort that you put into this account, to help the students through their university career.
---
I got my bachelor degree! 🥳 Thank you for your kind and motivational posts and messages during the semester 🤗
---
Hey!😁😁 Hope you guys are doing well! A quick thank you also from me for all this motivation stories and pushes, they really helped and are still helping, since I am still doing my Erasmus Semester in Trier and have 2 more exams next week😅 The last ones close the door I guess😅😂 But yes, thank you for the help you give when we got a problem or question and your constant input! I sure hope you guys enjoy your vacation and off-time too as soon as they start. Until then, take care!😁✌🏻
---
Thank you for being such an activist for positive vibes and those motivational stories are really helpful during a stressful Uni-time!! You're doing a great job!👏🏻👏🏻👏🏻👏🏻
---
Merci à toi pour l'accompagnement et pour nous avoir poussé
Continue comme ça t'es Formidable avec nous 🙂
Be proud of yourself for being a so amazing support 🙂
---
you are literally the definition of a successful social media management, you are doing a great job! thank you so much, you too 🥳🥰
---
I'm really happy our Uni has an active insta account. You're doing an amazing job. Super proud as a student to have you!!! Well it had to be said. Honestly I just keep bragging about this to my friends 😂 Does your uni have an insta account this cool ? 😏😎 Keep up the good work!! 💪🏽💪🏽
Don't take yourself too seriously. Keep the positive vibes flowing and keep smiling. Writing this article with the highlights have made me feel proud, I've smiled a lot and realised that it was a very nice year. I didn't include all the other tasks such as replying to questions, social media campaigns, digital marketing but there are more. There is always more but this article is about highlights.
Thank you everyone who helped me make all of this happen. You are the best.
My list is still very long and I will do my best to keep it long while realising some on it.
Smile. Create. Inspire. 💛
Take Care,
Aswin
About The Author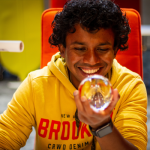 Aswin Lutchanah
Hybrid Social Media Manager with over 9 years of experience specialising in Social Media. Experienced with all aspects of Social Media Management. Having a Master degree in Computer Science, I have an in-depth knowledge of the digital world including Social Media, Community Management, Social Media......