Posted on Sat 20 February 2021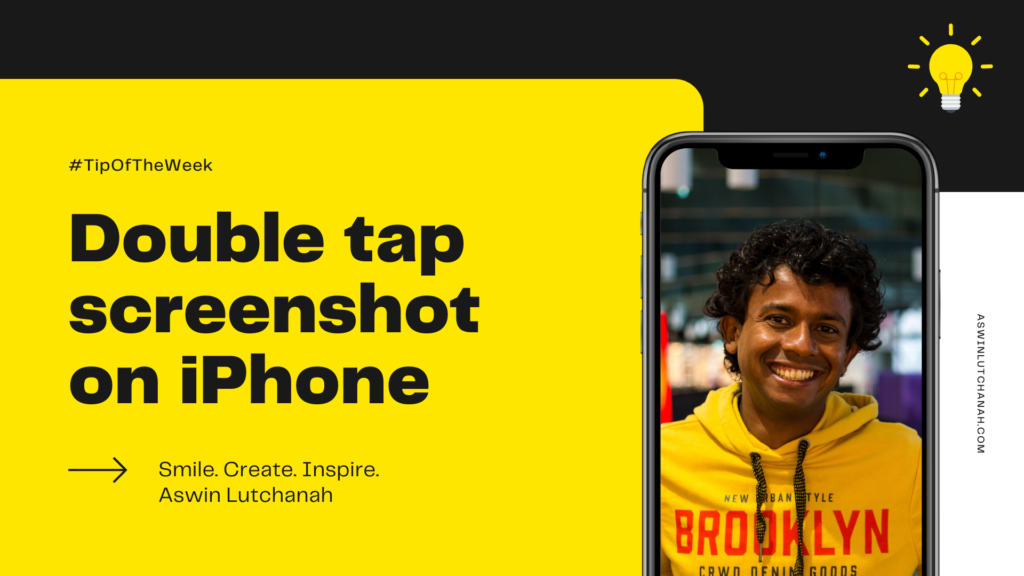 As a Social Media Manager, you spend your day taking screenshots as proofs, examples or for testing purposes. I will share with you a shortcut that made my life easier: double tap the back of your iPhone to take a screenshot.
How to take a screenshot by double tapping the back of your iPhone?
Grab your iPhone if you have one. If you don't, then this tip is not for you. Let's assume that if you are still reading that you have one, right?
Go to "Settings" on you iPhone
Tap on "Accessibility"
Tap on "Touch"
Scroll down to "Back Tap"
Tap on "Double Tap"
Choose "Screenshot"
Video showing an example of how the back tap for screenshotting works
😎 Did you like it? Do you want more tips? Let me know in the comment section. Did you try it? Will you keep this option activated on your smartphone? Do you take a lot of screenshots by mistake?
Like, Share & Comment.👇
Smile. Create. Inspire. 💛
Take Care,
#SocialMediaManager
LinkedIn publication of the tip of the week
Initially, I randomly shared this double back tap screenshot tip on LinkedIn and I started to receive some positive feedbacks which led me to want to create a series out of this. So, Let's hope that I find enough digital tips to share with you. Let me know if you want me to explore anything in particular.
💡 By the way, you might want to have a look at another digital tip: how to hijack LinkedIn's Say My Name record audio option. Besides giving the opportunity to the viewer of your LinkedIn profile to hear how your exotic name is pronounced, you could use this option to do your LinkedIn 10-second pitch. Find out the details and guidelines in my other article. 😉