Posted on Sat 27 February 2021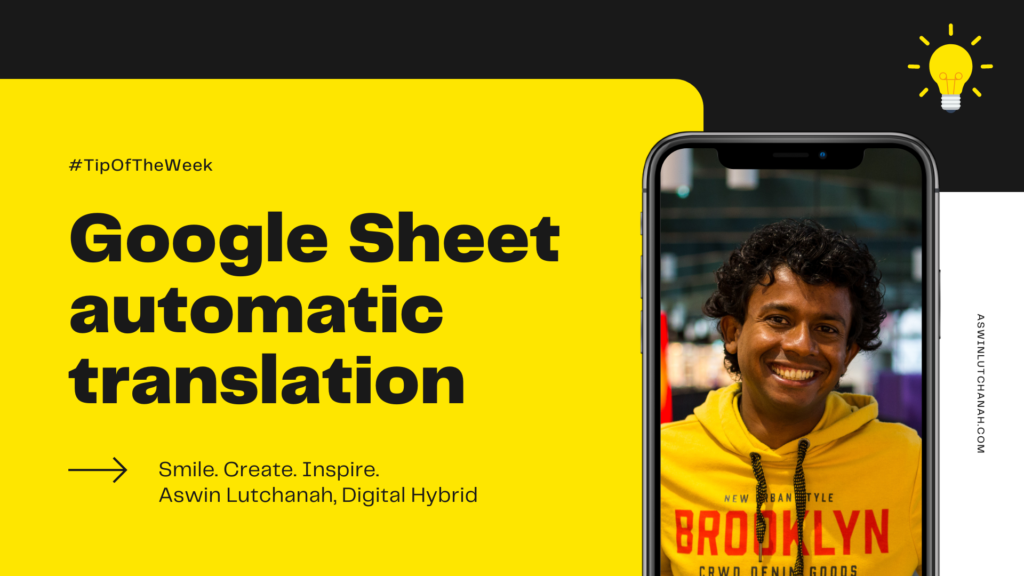 Did you know that you can translate text automatically in Google Sheets? By now, if you are an active user in the digital world, you already know about Google Sheets and Google Translate, right? How about combining both? Yes, it's possible. Let me show you how by using the GoogleTranslate function.
How to translate text automatically in a Google Sheet?
I'd recommend that you watch the video below for a start. It's simple once you see it.
Open a Google Sheet
Type a text in English in a cell: Smile in cell A2 for example
In cell B2, use the function GoogleTranslate

=GOOGLETRANSLATE(A2,"en","fr") where

A2 is the cell containing the original text; it could be directly some text between inverted commas: "Smile" instead of a cell.
"en" is the second parameter which should be the source language, i.e. the language of your original text.
"fr" is the third parameter and it's your target language; the language in which you want the original text to be translated.
Video showing how to automatically translate text in Google Sheets
What are you waiting for? Open a Google Sheet and give it a try. I'd love to know how you will use this digital tip in real life.
Like, Share & Comment. 👇
Smile. Create. Inspire. 💛
Take Care,
#SocialMediaManager
LinkedIn publication of the second tip of the week: Google Sheet automatic translation
The automatic translation in Google Sheet tip was originally published on my LinkedIn profile on Saturday 20 February 2021. It's the second tip in the "Tip of the week" series. Feel free to check my LinkedIn profile for the third tip of the week that I published earlier today.
💡 Before you leave my blog, make sure you read the first tip of the week: double tap screenshot on iPhone; it will make your life easier especially if you often make screenshots. People working in the marketing field often have to make screenshots to prove, test or for reporting purposes. Enjoy this digital tip as well and do not hesitate to ask for more.